Hi everyone! I have something that you can provide you with a lot of hours of entertainment. It's a multi-game table
where you can play pool, basketball, foosball, and shuffleboard just to name a few on one table. What's this table you might be asking? It's called the Danbury 14-in-1 Multi Game Table by Playcraft. I have done a review of another multi-game table. However, it only has 3 available games that you can play.
I have just recently found this one and it has more games which means more of a variety that you can play especially table bowling and basketball. I found this product on Wayfair, and it retails for $758.33. It also has a favorable rating as well. You also have the option of choosing a table finish of either Espresso (as shown in the picture to the right) or Cherry.
Information
Here are the details and what you can expect about this multi-game table:
Where to buy: Wayfair.com
Price: $758.33
SKU: PCF1089
Dimensions: 35" H x 30" W x 56" D
Overall Weight: 215 lbs.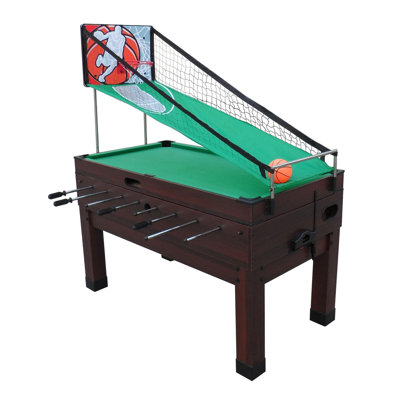 Features:
Includes pool table, bowling table, shuffleboard, table chess, checkers, backgammon, Yahtzee, dominoes, poker and pinochle cards
14 Games for hours of fun
Air Hockey, Table Tennis, Foosball, Pop-a-Shot Basketball, Pool, Bowling, Shuffleboard, Chess, Checkers, Backgammon, Yahtzee, Dominoes, Poker, Pinochle
Sturdy solid 4″x 4″ solid legs with adjustable leg levelers
Full electric fan motor powered air hockey table
High speed action foosball table using 1/2″ solid through rods with plastic bushings
Convenient storage for all of the accessories
Oversized table tennis table measures 4" x 6"
Includes basketball game
Games do have a convenient storage for all the of the games/accessories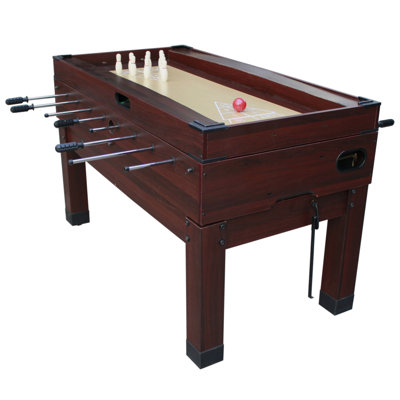 Product details:
Games: Air Hockey, Table Tennis, Foosball, Pop-a-Shot Basketball, Pool, Bowling, Shuffleboard, Chess, Checkers, Backgammon, Yahtzee, Dominoes, Poker, Pinochle
Accessories Included: Yes
Material:

Medium-density Fibreboard (

MDF); Plastic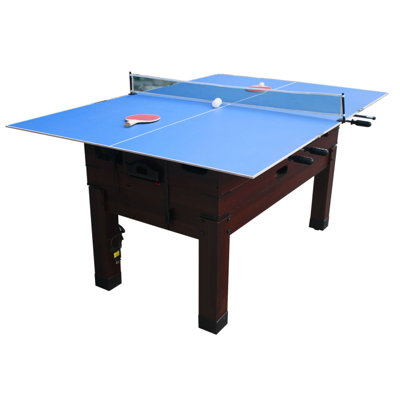 Reviews
This multi-game table has been rated at 4.1 stars out of 5 from the folks that bought this on Wayfair. There were 16 reviews in total. To state a favorable review, one of the customers said, "It is worth every penny. It is heavy duty and good quality."
On the flip-side, there is a critical review as well. To state that, another customer said, "A couple of pieces are warped. It is heavy but a cheap finish."
I would have to say that I have not played on this table before. Since it has a rating of over 4 stars, I feel that this product is worthy enough to be promoted on this site. If you are unsatisfied with this product, you may return an item for a refund of the merchandise total within 30 days of delivery; all you need to do is ship the item back to Wayfair.
About Playcraft
Playcraft's mission is to produce high quality pool tables, games tables and accessories at affordable prices for commercial, institutional and home use. For more than two decades they have delivered products with great value and superior workmanship. Playcraft remains committed to continuing these traditions of durability, value and innovation.
Any thoughts?
I hope that you liked this review of the 14-in-1 multi game table. If so, please leave any thoughts, comments, or questions in the comments section below. Also, please share this on social media if you liked this post as well. I look forward to hearing to what you all have to say. Thanks so much for stopping by!