Hi folks! Perhaps you're interested in owning or investing in an electronic dartboard? If so, I have one that you might
be interested in. What I am going to introduce to you is called the Viper Neptune Electronic Dartboard by GLD Products.
I have found this item on Wayfair and it's price tag is at $174.99. It's a product that has the most favorable reviews, and because of that, I have decided to promote this product on this site.
Product information
Price: $174.99
SKU:

VPR1352

Where to buy: Wayfair
Includes AC adapter, six free soft-tip darts, and game manual
Regulation 15.5" target face
Single / double bullseye option
Four player 6" jumbo LCD display
Cyber match with 5 skill levels
Target tested tough commercial grade nylon segments
57 games, 307 options, 16 players
Front mounting for easy hanging
NOTE: The AC adapter is located on the lower left side panel (Manual lists this location incorrectly as being on back right side).
Voice with 3 volume levels
Product description
Enjoy hours of entertainment in the comforts of your home with this Viper Neptune Electronic Dartboard. This stylish electronic dartboard is made from premium-quality materials, which ensures durability. It features a stylish and appealing finish, which adds to its visual appeal. The electronic dartboard comprises of AC adapter, six free soft-tip darts, and game manual. High on entertainment, this electronic dartboard is equipped with 57 games and has 307 options. It can be played by players up to 16. The space-efficient electronic dartboard is easy to mount in your game room. This Neptune Electronic Dartboard from Viper is a welcome addition to your game room.
Reviews
In accordance to this product, this Neptune Electronic Dartboard has a product rating of 4.5 out of 5 stars. I would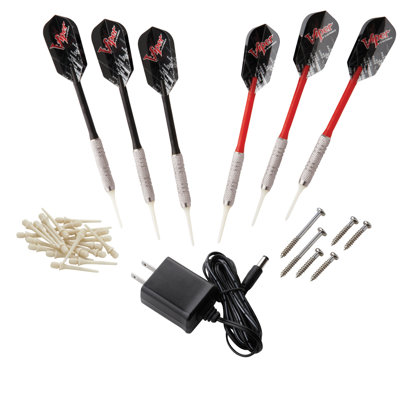 also like to state that there were 54 people who bought this and gave reviews.
To quote someone who gave this a favorable review, there was one that said, "Easy to put on the wall and looks good."
On the flip side, there was one who gave this a critical review. This person said, "The darts do not stick to the dart board."
If you are unsatisfied in any way, Wayfair has a 30-day return policy. You may return an item for a refund of the merchandise total within 30 days of delivery; all you need to do is ship the item back to them. Return credits are issued within 24 hours once the item is received and inspected. Note: if you return an item the return shipping costs will be deducted from your total refund amount.
Thoughts?
I have done a review on another dartboard cabinet that you can check out if you don't want this electronic version. Well, I hope that you enjoyed reading this review of the electronic dartboard cabinet. If so, please share this on social media, and do add any questions, comments, or thoughts that you may have in the comments section below. I look forward to hearing what you all have to say. Thanks so much for stopping by. Cheers!